Yep, I decided to colour it. And once again thanks to Undelos for helping me get the full picture. What would I do without you?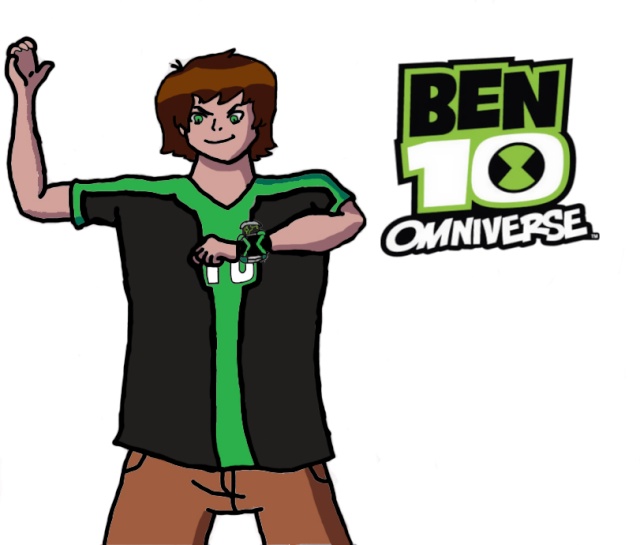 Next up, Rook!
Alien Life Form Database
Species: 3/4 Human, 1/4 Anodite
Home World: Earth
Ben Tennyson is a typical 16-year-old high school freshman, who 6 years ago inherited some not-so-typical responsibilities of cosmic proportions. Thanks to his Grandpa Max being a member of a super secret underground organization of "plumbers" who defend the Earth from alien invaders, Ben has become a hero involved in galactic adventures beyond his wildest dreams!
The source of all Ben's powers is the Omnitrix, the most advanced piece of technology ever created. By selecting the hologram of an alien species from the face, then sharply striking the activation panel with the flat of his hand, Ben can infuse his own DNA for the DNA of any species the Omnitrix has a sample of in its database, transforming himself into virtually any alien creature. Unfortunately, Ben has never learned how to properly use the Omnitrix. So although in theory he has access to over a million alien species, thus far he only knows how to activate a few of them. But that's more than enough to get the job done!
Plumber Interplanetary Info:
This strange and unusual planet is home to a wide variety of species of Earthlings, including creatures known as "humans". Often referred to fondly by the locals as "Mother Earth", the Earth is easily recognizable from space due to it being 71% covered by water, with six distinct continental landmasses and polar ice caps at its northernmost and southernmost points. This planet has only one satellite which human Earth inhabitants call "the moon". As if there is just one moon in the entire cosmos! Contact with the rest of the universe is limited.
_________________
Anyway, cya!

~Oliver Zombieweasel

FusionFall Hints n Tips
Wii Friend Code: 1464-3969-8430
3DS Friend Code: 1177 - 8243 - 0291Discord: Oli Zombieweasel