I don't usually make these kind of threads but let's do it anyway.
Something Glory said, inspired me.

C'mon and join the party.
What happened to that "Halloween" game on Xtreme?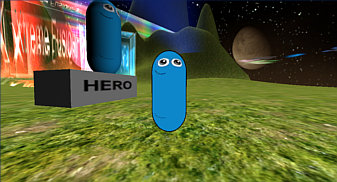 The "Escape To Foster's Home" game
( http://xtreme-fusionfall.yolasite.com/escape-to-fosters-home.php )
was somewhat incomplete and made in relatively little time (less than 2 weeks, on and off)
when I was like 14 and with
little Unity knowledge but I think the result was pretty decent
and shows creativity alone can do wonders even if you don't know how to use the software that much.
I would have uploaded the project files here so anyone could add/replace whatever they wanted
or even start a new project to build on what I already made
and possibly someone with networking knowledge could
make a multiplayer chat while they play.
Would have been cool to have a game like that with that atmosphere.
I would have added flames, new maps, pumpkins, etc.
Unfortunately, the files were somehow corrupted.
And probably a lot of you are too busy like me, to do anything intense for a long while.
Halloween Contest?
Where on Earth is Undelos?
I was thinking maybe there should be an art thread where
people make halloween movie posters involving FF characters.
(Now you can get screenshots from FF Legacy....no excuse!)
Or you peoplez could just reminisce in the old Halloween threads on Xtreme
that had screenshots of the night sky in FF....
http://xtremefusionfall.forumotion.com/search?mode=searchbox&search_keywords=halloween&show_results=topics
Or maybe people can make Halloween comics....actually that's a lot
more work than a movie poster.....Startup Gimp/Photoshop you guys....
Who are you on Halloween?

Back when I used to dress up for Halloween (not bothered anymore....growing up is lame though....)
most of the time I was the devil.....'cause evil deserves to be mocked.
Sometimes I dressed as a skeleton.
What about you? And have you stopped? When? Why?
I stopped years ago...
I just didn't feel like it anymore.
Anything else you want to talk about that's Halloween related?
Eh....probably no point in making this thread since everyone's getting heavily busier now.