I used to watch Pokemon, along with other shows like Spider-Man (90s The Animated Series),
Power rangers, Digimon, Dragon Ball Z, etc.
I remember I had a few Pokemon cards and a Poke ball that had a
toy creature/monster/pokemon inside...
....Naturally I threw it at the wall and cracked it.
Pretty sure I knew that would happen, it being made of plastic.
.....But, there came a point when I stopped liking Pokemon.
(Not sure about Digimon, can't remember how I stopped watching that....maybe it just didn't come on?)
I think I just felt that Pokemon was repetitive and depressing.
(Or is that a result of my nostalgia sense.....making me depressed?)
I do know that the frame rate of animes ANNOYS ME.
Most animes use a frame rate lower than 24FPS, due to cost and creative reasons,
since they put so much detail in each frame as it is, it wouldn't be economical
to further increase the workload.
I don't know what it was that I found depressing but I'm definitely
sure I preferred Spider-Man Unlimited (airing at the same time if I recall correctly).
(1999).
Childhood, where did you go?
I had a Pokemon Pikachu money box. (One big one, one smaller one, and a much smaller squeezy toy thing.)
3 Pikachus....
Sadly lost all of them, except possibly the small one....I'll have to look around my stuff.
I also STILL have this Agumon (from Digimon) soft toy: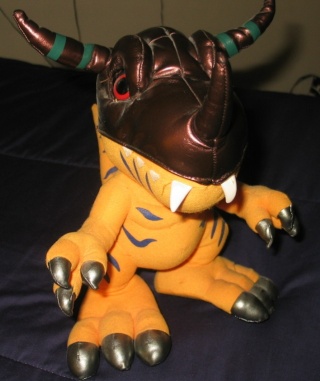 Unfortunately, I lost the mask part....which made him look way cooler.