ozdyck3 wrote:

I support Donald Trump.
How most people in the U.S. react to Trump:
How most people outside the U.S. react to Trump:
"This guy's for real?"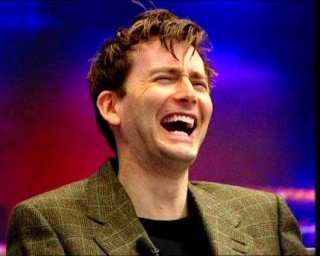 ".....Ok the U.S. is in trouble."
(Those of us outside the U.S. have the luxury of not
worrying a Trump will rule us.
)
Oliver Zombieweasel wrote:

ozdyck3 wrote:

I support Donald Trump.


Permission to ban, X?
But he's a Doctor Who fan.
(Lol I'm just kidding.....I don't ban people for misguided opinions
like supporting Trump because even intelligent people fall for media and
politician propaganda. I will explain further down the post about your misconceptions.
)
ozdyck3 wrote:

Hey, I can't speak my mind? You guys are clearly speaking yours.
I'm sure Oli was just kidding!
We know you're not a troll as you've been on Xtreme for a long time.
Oliver Zombieweasel wrote:

ozdyck3 wrote:

Hey, I can't speak my mind? You guys are clearly speaking yours.


Internet's rules, Ozzy. Not mine.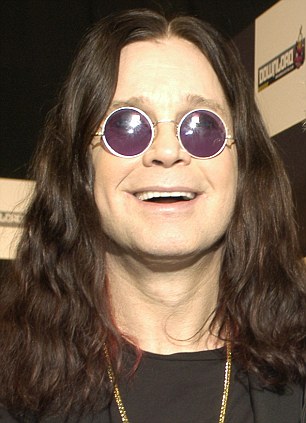 Ok back to serious stuff.
Ozydyck3, welcome back to the forum, where've you been?
Anyway, I know you can't vote yet
but I don't want you to continue having these misconceptions about
the candidates available.
I've been knee deep in politics compared to the average person
and have researched beyond the basics and looked at the facts on
the candidates this year.
So please carefully consider what I say.
Firstly you have to consider why you're a republican?
Is it because you were raised that way or what you watch on
TV?
You might not actually agree with republican concepts
and really, no one should agree with their awful ideologies.
The Republicans too often try to bring religion into secular
society when not everyone believes in a religion so it's unfair
to justify having "this or that law" because "in my religion it says ...."
Because that doesn't make sense since religions have not been proven
to be genuine. (I believe there may be a God but I do not believe in religion
as it's just a human made tradition to control people and justify bad actions, etc.
Sometimes there are even people profiting from religion.)
Another thing is the fact they're right wing.
It's nearly always the right wing parties like
republicans that engage in wars.
The Labour party in the UK (left centre wing but recently has been
NEO liberal which is left centre mixed with right centre)
had Tony Blair joining Bush with the war in Iraq.
It was supposedly about "weapons of mass destruction"
yet NONE were found.
It it still went on for years.
This whole middle east invasion by
the U.S., UK and other allies
is just a way to steal oil.
(I mean, maybe there's a few legitimate reasons like
fighting some terrorists but really?? Over a decade in the middle east
full of oil, and the main reason is terrorists??? I don't think so.)
Labour thankfully will go back to its left centre routes
with Jeremy Corbyn who's anti war and is a democratic socialist
I think. So hopefully if Corbyn and Sanders get in their
respective countries' powerful positions,
we don't have to continue with these stupid wars
killing many people for the sake of oil and other political motives.
(E.g. Republican politicans be like: hey look guys....the wars the republicans caused
is causing mass immigration....let's blame the left wing for allowing
refugees!
)
You can't trust the republicans, no matter who the candidate.
(Well, I'm not sure if there's been any anomalies in the pattern.)
They also tend to deny global warming.
Why? So their corporations don't have to pay for the damage
they're causing the planet and so the oil, gas and coal
industry can keep going without consequences (e.g. corporately taxed more).
The republicans are against the peoples' interests.
I don't know what they tax the middle class but I'm assuming
it's not that much so they sort of make
some of the middle class feel like they're on the same side.
E.g. "tax is bad" "so I'm not going to tax you too much, vote for me!"
But the thing is, they're taxing the working class too much
as the working class doesn't earn anywhere near as much as the middle class.
.....Ugh my reply was much longer but when I hit the preview button,
it reverted to a shorter version of this post.
I'm just gonna wrap thing up by saying
that socialism is already in the U.S.
(the police, military, health service, public schools, fire brigade, etc. are all socialistic programs).
We need socialism in larger amounts.
I could go into detail about communism vs socialism vs democratic socialism
but I hate having to re-type stuff
so I'll keep it brief:
Communism is about working as much as you can,
to earn as much as you need.
(Good idea, but not perfect.)
But the propaganda against communism is really stupid
as it's referring to the problems in Russia, North Korea, China, etc.
and labelling it as "see, I told you communism doesn't work!"
but actually communism has been refused to work
as corrupt dictators have modified it.
In its pure form, communism has yet to be implemented properly
in the world. Everyone who's "tried it"
have actually deviated away from the definition
and modified it to their greedy advantage.
Fascism/extreme capitalism (e.g. in the U.S.) and the fake "communism" in Russia, etc.
they both lead to poverty!!
These leaders are using different labels
and using different routes to get to the same outcome
which is economic slavery while those at the top
enjoy ordering desperate people around with poor wages.
Different sides of the same coin.
Russia and the U.S. are both guilty of this and they demonise each other
when they're both guilty of corruption, just in different ways.
Anyway, socialism is better than real and fake communism as it focuses on a more equal society,
e.g. "everyone has the right to free health care as it's not a
luxury, but a necessity and human right, no matter what you earn".
Democratic socialism is even better as the democracy part
ensures the people have a vote on certain things
rather than it being all down to the government.
Bernie Sanders is a democratic socialist.
(I think I am too, as well as Jeremy Corbyn I think.)
The Republicans, media, banks, wall street and even some of the democrats
are all part of the establishment.
The establishment want to maintain this
economic slavery, corporate tax dodging,
ensuring cheap labour is available 24/7, etc.
It's selfish and they don't care about us, Ozyyck3.
If you've still got questions, let me know
and I'll clear things up because you had a lot
of misconceptions in your post but I'm not surprised as the media
are corrupt and biased.
All the major candidates are part of the establishment
(except Bernie).
So that means Hillary and Trump (as well as Cruz and Rubio)
are bribed by corporations to make unethical favours for them
(why do you think the legal loopholes for corporate tax dodging hasn't been
fixed? Bribery. Congress is full of corrupt people.)
Trump pretends he's anti-establishment but heck no,
he's part of it just like Hillary is.
Trump claims he funded his whole campaign
with his own money but that's false.
He only spent about a quarter for a million dollars of his
own money on the campaign while
using corporate money to bribe the media (hence his disproportionately excessive media coverage
while Bernie has such little media coverage....wonder why...
)
He also used super PACs to fund his campaign while
Bernie refused to use them
as he is principled to think that
if he did accept, he'd be chained to
the corporations' requests but he refuses so he owes
no one any favours.
I'm telling you, it's only Bernie who's genuine.
Trump is distracting you from the real issues.
- Immigrants "are stealing our jobs"
is just a right wing scapegoat.
These immigrants are actually helping the country out
as they're doing jobs no one else would do
and at even worse wages than the local (U.S. citizen) people
would get with normal jobs.
Deporting the immigrants would not
do much. The real problem in the U.S. is
poverty.
Bernie can fix this.
He's going to tax the upper class more (the top 1-10% somewhere around that region
and don't worry, they won't feel the tax as they're incredibly rich
and this group of privileged people do not include yourself as the top 10%
is people who earn WAY OVER $200,000 a year.)
He's also going to fix the corporate tax loopholes
to stop the greedy corporations dodging BILLIONS of dollars
and stealing the wealth of the nation.
He's going to reduce excess military spending (hundreds of billions of dollars a year
is ridiculous and a waste of money).
He's going to tax wall street speculation and with all this
money re-gained by the nation, it could EASILY EASILY
fund free health care, free university degrees and increase the minimum wage.
Trust me, the working and middle classes will BENEFIT
from Bernie while the corporations lose out (not even that much...but they're greedy and spoilt
and want as much money as they can get.)
Watch Bernie videos if in doubt.
Look at this political compass which this website
says represents the U.S. candidates in 2016 in terms
of their political positions:
http://www.politicalcompass.org/uselection2016
Trump, Bush, Cruz and Rubio are virtually fascists!
Now compare with these reference points to other historical figures
and it becomes quite revealing: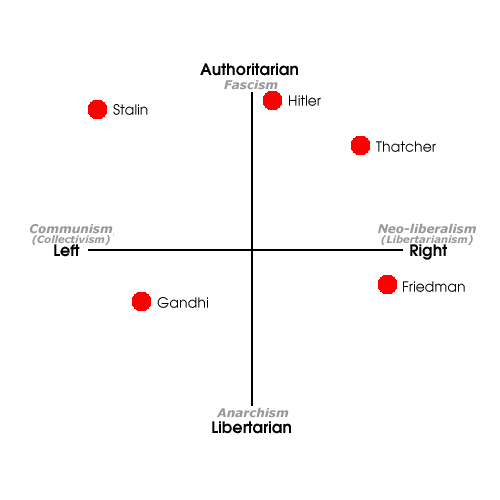 My own political position on things is quite close
to that of Gandhi and Nelson Mandela according to some political
compasses/charts I've seen online. (They may not all be accurate....I've seen conflicting
ones about where Stalin is....I believe this chart is correct with saying Stalin
is very authoritarian while one chart from a biased website I assume,
claimed he was libertarian....LOL.)
You can take the test on the website too
(not sure how accurate it is but it's cool)
but warning, may contain inappropriate themes/language.
Hillary is almost as bad as the republicans
but I won't go into that since you
seem to already be against her and I've already written
about her in this thread.
She's basically the establishment's backup
if the republicans don't win.
So to conclude, the money that republicans
claim is lost through immigrants dodging tax (I think that's either
untrue or misleading....remember they get paid VERY POORLY
so even if they dodged tax, it wouldn't make a significant difference)
but even this made up accusation
of lost wealth is NOTHING
compared to the TRILLIONS of dollars of
wealth collectively lost
from the nation that goes from the bottom 90% to the
top 10% through low wages, dodging billions
in corporate tax, excess military funding, etc.
ALSO, a well educated population in the long
run leads to a better economy.
Even economists agree with this and really it's common sense
but the corrupt politicians want to mask this
with "lol it's immigrants not the bloody thirsty corporations" 
Being a republican voter is like paying
for someone to steal from you.
Google Stockholm syndrome and see why
voting for a significantly right wing party is
similar to being a hostage that's come to grow
their captors.
Although I think the MAIN reason some people
vote for right wing parties like Republicans, Conservatives, etc.
is because of propaganda.
Not all rich people are greedy but the higher you go up
the ladder, the more likely the person got there by corruption/unethical business practices, exploiting
people, lying, stealing, cheating, gambling, etc.)
but the rich and greedy
have the money to bribe the media
all day long.
Look at how corrupt Fox News and CNN are.
I think nearly all news networks in the U.S.
are corrupt but some are clearly more corrupt than others.
There was a CNN video on YouTube I saw that
showed a CNN reporter talking about
Facebook polls on their favourite democrat....
Bernie was the most popular in every single poll!
He was like "there's something called Facebook....it's popular with the kids".
They may claim it was a bit of humour but NO.
This is subtle propaganda.
They're referring to Facebook like it's something
only kids use and so they undermine the landslide
victory of Bernie in these Facebook polls which
actually reflect pretty well, what the majority
of people think since a large proportion of the population
uses Facebook. (I don't use it personally....it asks for too much personal info
that I'm not willing to sell to third party companies....
)
And then there's the notorious Fox News.
The video Glory posted....was a Fox News video
and I've gone into detail in a previous post
in this thread showing how much Fox News
LIE about everything.
They are very right wing biased.
The media want either a republican or hillary
to win so that's why they're trying to use headlines
like "it's over for Bernie"
and "it's a race between Hillary and Trump"
but this is a LIE.
Bernie is actually doing ridiculously well.
They're just trying to trick people into
either voting for hillary (as many see her as a lesser evil
to trump even though they're both awfully corrupt)
or not vote at all....
They used the excuse of "hey look
hillary got a lot of south state votes! Bernie is cooked!"
WRONG.
We already knew Hillary would get many of those
southern states but now that this lifeline of hers
is gone and they've already voted now,
hillary is TOAST. (Good.....because we can't keep electing corporate establishment figures
which will just serve the corporations while stabbing us in the back.)
Bernie has a LOT of support from the North states
so he has a good chance of winning.
ALSO, the media love to use
the whole "she has way more super delegates"
excuse to make it seem like Bernie is losing big time
when he is not.
Super delegates are firstly a crime to democracy
(and actually America is NOT a democracy....it's an oligarchy which
is a form of plutocracy....it involves the rich minority having
a say in how things work....which is morally wrong....and you've guessed it...
it gives the corporations this power to mess with us like this
while a democracy would out vote them and the media couldn't be biased
but it currently is.)
Super delegates are ridiculous and don't represent
the population but a good thing is,
that even if hillary's super delegates wanted to choose
hillary even if Bernie won, they probably
wouldn't be able to as they're jeopardise
the whole party.
Like, if the democrat party is like
"hey we know you people voted Bernie but
we're gonna put Hillary in charge anyway"
would cause OUTRAGE.
The party would go down in flames
and they wouldn't want that even if
it means Bernie winning.
So actually, the media LIED to us.
Bernie can really win this thing.
Even news/newspapers in the UK have
pulled this lie.
They're all in on it.
It's the establishment.
This sounds crazy but there's plenty of evidence and it's really
not that difficult to believe that money
corrupts people.
So I do have hope that Bernie can win.
We just need to tell people
to ignore the news propaganda.
They're pretty much all against Bernie
as with him in charge,
they get less benefits
(e.g. being able to be bribed by politicians and corporations
to change their news stories or how they report them, etc.
would probably cease if Bernie got in, and they don't want that)
We need to take the western world
out of the corporations' pockets.
They've pretty much enslaved us.
Look out these discrepancies:
Africa is a continent rich in resources like oil, diamonds, gemstones, etc.
yet because of corrupt multinational corporations and corrupt
governments bribed by them,
the whole continent generally
is quite underdeveloped and technologically behind, has much poverty
etc. compared
to many other countries.
The U.S. one of the richest countries....has LOTS of poverty!?
Laziness? Lol I don't think so.
Please don't listen to the republicans and their bribed
news networks.
The game is rigged against us
but it's not THAT rigged.
Some people think it's so rigged there's no point voting
but that's WRONG.
Otherwise the corporations wouldn't spend so much
money lobbying with the media and politicians
to sway our votes.
It's rigged, but not enough to invalidate out votes.
Please get as many people as you know to see the truth about
the political world.
This is not "liberal propaganda"
or whatever rubbish Fox News would say.
Research some more if in doubt
or if you want me to clarify something,
let me know.
Darn....am I going to have to write essays
for each and every person who isn't convinced
Bernie's the only candidate???
I was going to use bullet points but....
it probably wouldn't be detailed enough.
And Trump's few policies reveal what kind
of short sighted person he is
and probably the opposite of genuine.
"Banning all muslims from the U.S." is a stupid idea
as it's discriminatory (imagine you were Christian
and some Christian terrorists attacked a country
and the country said "we're going to ban all Christians"...
that would cause outrage....and this situation is essentially the same.)
It also shows that Trump doesn't know what to
do after "temporarily" (hahaha sure)
banning muslims.
Or it could suggest that he's just trying
to push that policy in and see what
else he can get away with.
It might just be a permanent thing that
he pretends will be temporary.
Don't vote for these kind of people. 
He also shows his true colours when
he says he would like to punch a protestor in the face...
And I think a secret service agent in one
of his campaign rallies slam choked
a journalist for being about 18 inches past
a certain line....18 inches is nothing mate.
That's like a foot and a half.
And SLAM CHOKING HIM?
If Trump gets away with this
kinda stuff, imagine what Hitler-style
stuff he can get away with as president!
Trump won't make "America great again" (a cliche slogan anyone could have used...)
but he might make America greater again for the CORPORATIONS and other
corrupt greedy people.
There's so much dirt you can get on Trump, he only
needs to open his mouth and you can easily analyse
his behaviour but Bernie has a spotless political record.
Bernie voted against the Iraq war, campaigned for
free health care, etc.
I have a feeling the establishment (including the media)
has a dirty trick (they're already pretending Bernie has lost when he hasn't)
that involves using the media to promote
hillary and then if it goes into hillary vs trump (oh God no...
)
then they might use the hillary email scandal
to make her drop out of the race and....trump win????
It's very plausible.
I don't trust the establishment.
And Trump is a fascist even if he wasn't part of the establishment,
but he definitely is.
Even if Trump's one trick pony policies
on immigration were good (which they're not....they're ridiculous and won't
make a significant change)
you can just tell by his behaviour he is NOT genuine.
He often repeats sentences, and often
his sentences don't actually have a lot
of substance but instead lots of fillers, lies
and distracting talking points.
He's just using charisma to make people think
he's a strong leader. It's professional lying, nothing more.
To people like me who see through his nonsense very quickly,
he sounds like an idiot but the thing is...
I fear he's not actually that stupid,
but rather hiding his evil side with a funny guy persona.
The speech ability is quite odd.
There's so much lacking in the professionalism department
it makes it difficult to tell
if he's just a puppet or just has
more money than sense.
Also check this video:
"WE'LL STEAL THE OIL BACK FROM ISIS"
LOL.
So ----> Trump wants to steal oil from ISIS ---->
oil that "ISIS" stole from Iraq and Syria ----> HOW CONVENIENT.
(Does anyone else think that this is just a way for the U.S. government to get more oil? Lol.
)
At about 0:57 seconds is the trump advert and at 2:20 minutes
is the oil analysis thing:
WARNING:
It's all about the corporate benefits with this establishment.
Look at this video about Trump wanting to lower the minimum wage,
he's just ridiculous: (watch the whole video....these analyses are quite interesting)
Just for fun, more ridiculous Trump quotes:
WARNING:
Lol I actually find Trump funny with how he always
says "these people love me".
I find him funny but also malicious.
I don't want a malicious clown in office.
And I think he's actually more malicious than clown-ish.
His behaviour is not consistent with
older footage where his personality is a lot more
serious. I do not trust this guy nor do I trust the others
that are in the pockets of the establishment.
Bernie Sanders is the only one that cares about the people
and is genuine.
You know the banks?
They're described as "too big to fail"
which means if they go bankrupt,
they take most of the economy with them.
But Bernie is going to break them up.
(Hillary only wants to "regulate them" which basically means
she's not going to do anything.)
So Bernie will:
-Break up the banks and stop this bank monopoly.
-Fix the legal loopholes for corproate tax dodging.
-Reduce excess military funding. (Hundreds of billions a year is way too much and some of that money can be used better elsewhere.)
-Tax the upper class and corporations more (top 1-10%).
-The middle classes and working classes will NOT be negatively affected.
(And yes, that "90% tax" rumour is FAKE. He won't raise it anywhere near that much
and besides, it's for the corporations which can easily afford to be highly taxed,
not our problem especially when they steal the wealth of the nation for their own greed.)
-Increase the minimum wage to $15 an hour I think.
(Instead of underselling the peoples' labour for profit for the corporations.)
-Tax wall street speculation.
-Use the massive money saved every year
to fund free health care and free university degrees.
There is NO way we can lose with Bernie.

But the other candidates are serious risks to peoples' well being
especially since the corrupt system will remain
if anyone else gets in.
That's why we need Bernie in.
There are so few genuine and well principled politicians
like Bernie, we can't let this guy slip.
We've needed someone like Bernie for DECADES.
I really hope I've explained properly as this took a long
time to type up, looking for sources of information
as I don't usually bother with Trump related information
as I can tell he's corrupt but I guess the more I know...
the more my suspicions on "Trump being even worse than Hillary"
are sort of confirmed.
If I was a U.S. citizen, it
would be Bernie or Bust for me.
Hillary, heck no.
Trump, even more so, heck no.
They're all bad candidates except for Bernie.
Please let everyone you know about Bernie and don't
be afraid to challenge the propaganda against "democratic socialsim".
The U.S. is far too much to the right wing as it is,
we need to shift it to the left at least by a reasonable amount.
I have read tonnes and tonnes of arguments
from Trump supporters (most were probably paid by Trump
because they used the same lies over and over again and didn't respond logically to the many counter arguments
that blew those arguments out of the water.)
Even if Bernie's policies weren't good (they're actually brilliant)
I would still know that it's better to vote the only
NON-corrupt candidate.
If you have any questions or comments, let me know.
Feel The Bern!
EDIT: Just going to mention that:
In order of best to absolute worst:
Bernie Sanders >>>>>>>>>>>>>> Obama >>>>>>>>>>>>>>> Hillary >>>>>>> Trump + Cruz + Rubio.
Even Obama wasn't that progressive.
(And also somewhat corrupt too.)
I mean, yeah compared to Bush before him,
he made significant improvements from
the damage left by the republicans but he didn't
change things that much.
Hillary is similar in a way. (But her corporate links and pro Iraq war positions, lies, etc.
make me think she's worse than Obama.)
But they're all heavily corrupt (except Bernie).
Bernie's record is very clean.
The U.S. really shouldn't let go of Bernie.
This is literally a once in a life time chance to fix things.
Reagan economics (trickle down economics which does NOT work)
has been used as an excuse saying
"look poor people, the corporations doing well,
means you guys also do well"
and it's a LIE.
Money doesn't trickle from rich to poor.
It FLOODS from the bottom 90% poorest (via their work/labour)
to the top 10%.
In fact the top 10% receive nearly all the wealth of the country
and they don't deserve it nor do they need it.
But the poor do.
Also, a problem with banks is that
if no one was in debt, there would
be very little money in the economy
and that needs to change.
I've written a lot about these things in previous posts in this thread
but it's quite.
Also, here's a good video on Bernie's policy of free health care:
Warning: may contain inappropriate language.:
You can just ask specific questions instead.