Just for the record and in case anyone's wondering who I would vote for
NOW that Bernie is out of the race....
I would vote for Jill Stein.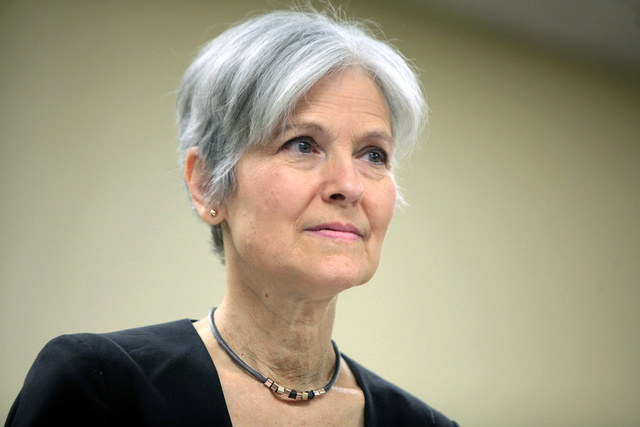 Bernie was cheated and there's so much evidence of
election fraud including voter suppression and more direct ways
of rigging the primaries in favour of corrupt Clinton.
Both Trump and Clinton are corrupt so I would vote Dr. Jill Stein
of the Green party rather than those two corrupt sides of the same
establishment coin.
I know many will see voting for a third party candidate
as risky but to me, I think it's better to vote for
what you actually want and believe in for the good of
humanity rather than bowing down to the two corrupt
two party system candidates.
I have done a LOT of research since I heard about Bernie Sanders
several months ago and there have been nothing but scandals
with Trump's links to the mafia in New York,
and the long list of suspicious deaths surrounding the
Clintons and the DNC.
Sorry I had to get dark.
Just thought people would want to know that
neither Trump nor Hillary can be trusted.
Gary Johnson, another third party candidate (from the far right libertarian party)
CANNOT be trusted either but I'd rather he split the vote away from
Trump's extreme right wing voter base and
Jill Stein split Hillary's voter base too.
America (thus probably the world too)
is in such a mess considering the front runners
of the presidency race are dangerously corrupt.
I cannot believe people are so ill informed or that
the rigging has been in such a massive scale.
I actually believe Bernie Sanders won the primary all
along but the rigging painted a different picture.
Over and over again people have said they only
see Bernie Sanders car bumper stickers, rally support, all their
neighbours support Bernie.....and yet Hillary won the primary.
I seriously don't buy it for a millisecond.
The only good candidate left in the race that's known
to a reasonable degree is Jill Stein from the Green party.
She's almost the same as Bernie in policies (common sense policies in my opinion).
I'm not forcing my views on anyone but
if I were a U.S. citizen, I would vote for Jill Stein
and NEVER any of the other candidates.
To my knowledge, every reasonably known
candidate except Jill Stein, is corrupt and you can see it
with their scandals, political voting records, policies and campaign funding
sources.
It's looking bleak but Jill Stein's voter share is rising.
Gary Johnson is polling slightly better than Jill Stein currently
but the good news about that is it's spitting the right wing votes.
I just hope Jill Stein comes out on top.
I think about 40-60% of voters will be INDEPENDENTS (third party voters, as in, NOT democrat, NOT republican)
do I feel MAYBE the polling is dishonest in some way.
Trump and Clinton are the MOST HATED presidential candidates in U.S. history.
Almost as if it was planned from the beginning that the front runners
would be those two with all the corrupt media bias.
The media has praised corrupt Hillary the most.
The media has given free coverage to corrupt Trump the most.
The media has ignored and smeared Bernie the most.
What does that tell us?
Jill Stein - Very Good policies, honest, campaign only funded by small contributions (NOT corporations)
Trump - CORRUPT
Clinton - CORRUPT
Gary Johnson - CORRUPT
I honestly cannot back down and support
the lesser evil...especially since the alternatives
are more evil than once thought.
I can't even tell who's the lesser evil anymore
because they're ALL TERRIBLE (except Jill Stein who's very similar to Bernie)
and they're so bad in DIFFERENT WAYS.
Besides, once a lying politician, always a lying politician.
According to that logic therefore, I CANNOT assume Trump
is bluffing with his policies because he's a liar like the rest
of the corrupt candidates AND changes his policies frequently (flip flopping).
It's just wishful thinking to think Trump is just
pretending to be messed up and will do a 180 turn if he wins.
Not gonna happen in my opinion.
You can't expect someone like Trump who flip flops mid sentence,
lies on a regular basis and has many scandals following him,
to be like Bernie once in office.
That's just unrealistic.
I know he was exaggerating his racist nature to appeal
to racists and the xenophobic people who blame immigrants
rather than their own government, for their economic hardships.
But even if Trump was bluffing about the wall and other nasty xenophobic stuff,
it's possibly the least of our worries considering his awful foreign policy and
economic plans which would send the country into even more debt as well as worse
economic situations for the less well off.
Henry Kissinger who was involved with starting the Iraq war,
was the foreign policy advisor to Hillary AND was going to be the foreign policy
advisor for Trump too!
I don't know if that's still the case but it should tell you that they're just
two sides of the same establishment coin.
The only hope for this election cycle is Jill Stein.
I think the reason Bernie Sanders endorsed Hillary was that either he was threatened (physically, emotionally, politically, etc.)
or was forced in a kind of ethical dilemma where he thinks he may
become a "spoiler candidate" if he didn't endorse Hillary which means spitting the vote and causing Trump to win. (Which he said he wanted to avoid at all costs.)
But in my eyes, choosing between Trump and Clinton is NOT an option.
I think Bernie would have actually done better if he endorsed Jill Stein.
Still, the man has woken millions of people into seeing the corruption
in the U.S. and encouraging new generations to get off their
tablets, consoles, TVs, phones, etc. and actually be involved in politics for once which
gives me hope that the next election in 2020, someone like Bernie will win in a landslide.
Some peoples' lives literally depend on this current election though.
I mean, even if you think Hillary is a lesser evil to Trump,
she still is likely to try to invade IRAN.
AND provoke Russia into a war with her STUPID
no fly zone policy in Syria which will inevitably lead to
Russian planes being shot down and you seriously DON'T wanna do that.
(Even if the planes were automated with no person inside, it would anger Russia and quite rightly so).
The corrupt American government is probably not telling the truth on what's
going on in Syria as you can imagine which the American
industrial-military complex and the FACT that the C I A and Pentagon
have funded BOTH sides of the Syrian civil war.
That's not even a conspiracy theory with lacking evidence, 
it's officially confirmed.  
Although I can't say I trust Putin, I would guess what Russia is doing is probably
closer to ethical than what American forces have been forced/tricked into doing.
But I'm not an expert in the middle eastern wars so...
I wonder if I should change the background and incorporate Jill Stein into it. 
Jill Stein can continue the political revolution that Bernie started.
People need to just stop falling for the two party system and stop
watching the corrupt media.
I would be great if CNN, Fox News, etc. we're just boycotted out of
outrage.
There's even been leaked emails confirming the democrat party
colluded with the media to promote Hillary over Bernie.
It's just disgusting what they're getting away with.