The Invasion Begins

A Fusion Fall Story

By Officer Second

Chapter 1

Earth has its fairs share of villans. Criminal masterminds, mad scientsits, and even an evil crazy monkey. The planet also has is fair of heros and even though its has been hard at times, the heros stop all the evil schemes these villans came up with. But no one was prepeared for what evil was speeding tords our world that night.

It was one of those dark, cold nights. The streets were silent, everyone was home asleep. Ben Tenneson, local superhero, awoke to the sound of an alarm. His computer was flasking with red and blue lights making a siren like noise. Displayed on the screen was a message, marked urgent. Ben sprang out of bed and ran over to his computer. The message was from Ben's Grandpa Max. He opened it and a picture of Max appeared on the screen.

"Ben, I know its late, but this is an emergency. The Plumbers and I have just detected a large alien war-craft about to enter Earth's orbit. If they are hostile, we may need your help. Meet me at the Townsville Park Plumber's Base." The message ended.

Ben shut down his computer and got out of his pjamas. He put on his jacket and said, "Its Hero Time." Using his Omnitrix's message capiablity he called Gwen and Kevin on their Plumber Communicators. "Gwen, Kevin its Ben. Wake up!"

"Wha..." Kevin asked on his end of the line, "Ben its two in the morning what do you want! Handsome guys need their sleep."

"Guys this is an emergency," Ben replied, "Grandpa Max has picked up an alien war-ship about to enter Earth's orbit. He needs us down at the Plumber's station in Townsvill park."

"Can't it wait," moaned Kevin.

"Kevin!" Gwen yelled just getting up.

"Just kidding Gwen," Kevin answered.

Ben went outside and waited for Gwen and Kevin to pick him up. About 10 minutes later, Ship, Ben's girlfriends's alien pet, flew up to his yard and landed. Ship's boarding bridge opened and Gwen and Kevin stepped out. "How did you get ahold of Ship?" Ben asked as he stepped aboard.

"Borrowed him from Julie," Gwen answered closing the bride as Ben stepped in, "Though she wasn't happy that I woke her up so early." The three of them proceeded to Ship's controls. Kevin sat down in the captain's chair.

"Ship," Kevin ordered, "Take us to the Townsvill park Plumber's base." Ship replied with his hearty, "Ship-ship," and took off.

"About how long till we're there?" Ben asked.

"The little guy flies quick," Kevin said, "Maybe 15 minutes."

As Kevin predicted they arrived at the base 15 minutes later. Grandpa Max stood waiting for them at the entrance to the base. Ship landed, at the front of the station, and Ben,Gwen, and Kevin exited.

"This better be good," Kevin said as he approached Max.

"Hiya kids," Grandpa Max said, "You best follow me."

"So whats the situation grandpa?" Gwen asked as the followed Max into the base.

"You'll see in one moment," he replied as the entered the control center of the base. On the center's monitor was a picture of a golwing green sphere.

"Is that the alien war-ship?" Ben asked.

Kevin was intensly statring at the monitor. Then it was like some one just slapped him in the face. His eyes widened with terror. "Thats no war-ship. Thats a planet."

"What!" Ben said.

"Sir," a plumber cadet yelled to Grandpa Max from the controls of the base. "We have movement from the sphere."

Everyone stared at the monitor. From the sphere beams of green light, hundred of them, began flying tords Earth at unbeleavable speeds.

"Everyone outside," Max ordered and they all proceeded as commanded.

The sky, no longer dark, was lit up from the beams. Glowing green.

"Incoming!" a plumber stationed at the entrance of the base called.

One of the beams was heading right tords the base. "Everyone!" Max yelled. "Down!"

Everyone dove to the ground as the beam mad e contact with the Easrth a few yards away from the base. Where it landed an alien pod was visible. The group began to get up.

"What is that thing?" Ben asked caustiously approaching the pod.

Suddenly the pod began to admit smoke and Ben jumped back in shock. The Pod began to open up like a butterfly coming at of a crisils. From it you could see multiple pairs of glowing red eyes. The creatures, green deformed aliens, jumped out of the pod and began leaping onto plumbers.

"Battle stations!" Max yelled as more of the creatures began exiting from the pod. Before long they were surronded.

"We are gonna need some back up," Ben said as the creatures sprang at him.
_________________
IGNs: Officer Second (35) La Titan (36)
My Store
and
Series
Mission Checklist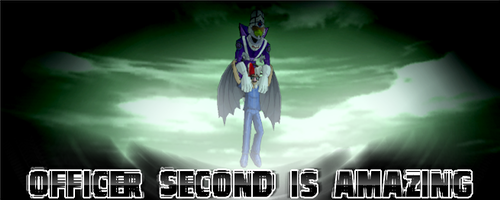 Spoiler: