Sad news, the rock star legend Lemmy Kilmister passed away on the 28th of December.

Lemmy was the lead singer of the English rock band Motorhead.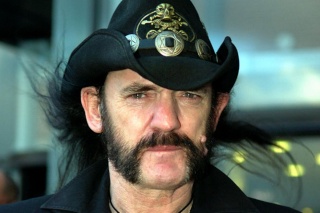 He died of cancer, at the age of 70. (He looked pretty young for his age,
it's so weird that he died.)
He was diagnosed with cancer on boxing day (26th December.)
I can't believe how late of a diagnosis it was. (Only 2 days before he died.)
And it feels even more horrible that I posted
the famous Motorhead song "Ace of Spades"
in a thread on the 6th of December.
This thread:
http://xtremefusionfall.forumotion.com/t5647-i-finally-did-it-xtreme
It's so messed up when that happens.
You talk about someone/something related to them....they happen to pass away a bit later,
and you end up feeling you were involved. (Which is obviously ridiculous but I can't help but feel
somewhat guilty.)
Quite a shock.
I remember when I was a kid, playing Tony Hawk's Pro Skater 3 on
PS1, my favourite soundtrack while playing was Ace Of Spades by Motorhead.
(Followed b
y Blitszkrieg by
The Ramones (that song that goes "Aye ho, let's go")
The Ace Of Spades song was generally very famous but I also remember it in
that CBBC Bungalow show, at the end of every episode, they played
that Motorhead song as the presenters and guests fought with "mucky muck muck"
which is gunge or whatever kids' TV programme slime/messy liquid term you want to use.
The guy had such a distinct rock voice, and the band in general is pretty good.
And of course it's awful when anyone dies.
Rest in peace, Lemmy Kilmister. 

(What an awesome name, as well.)
An irreplaceable legend.
Born to lose, lived to win.
A performance of his, when he was younger:
Higher quality, but no music video: